Decor is the way you personalize your event and make it special and unique for your child. Décor can be simple, with the basics that come with your party room, over the top elaborate or something in between. Décor includes things like linens, chairs, centerpieces, flowers, large blown up pictures and anything else you can imagine to personalize and decorate your venue. Since décor can be one of your top budget items, at Mitzvah List we were wondering how to get the most out of your décor budget. We spoke to Jenna Urbauer of Mandell Display Design to get advice on ways to save on your décor budget.
For nearly 30 years,
Mandell Display Design
has set the industry standard for design & decor.
Their
mission remains the same: To continue to grow creatively while staying on the forefront of design and innovation.
Mandell's
objective is to create custom looks for each event.
Their
commitment is to offer you the best, handmade, highest quality product available, as well as a truly one of a kind experience.
Jenna
and her team at
Mandell Display Design
ensures that your vision and personality is represented at the most important events of your life.
Mandell
continues to make this world a more beautiful place.
Jenna
told us about the ways to get the most bang for your décor buck:
Photo Credit:  Abby Rose
1.  Create a focal point.
Mandell Display
is known for creating spectacular focal points at Bar and Bat Mitzvahs.
Jenna
loves to use the dance floor as a focal point since this is where you want your guests to congregate and often the first thing you see when you walk in the room.
Jenna
creates amazing over the dance floor ceiling treatments which can include drapery, ribbons, crystals or anything else to create a wow factor.
She
also focus on spectacular signage or décor that is placed behind the dance floor for increased visual interest.
Photo Credit:  Abby Rose
2.  Spend your budget where your guests will spend most of their time.  Decor on place card tables, food stations or other areas that people don't congregate for long periods should be simple and cost effective. Use the majority of your décor budget on areas that guests will enjoy and notice.
3.  Double duty décor is the most cost effective. Try choosing décor that can be used in more than one place. If you have an amazing piece that will be displayed during cocktail hour, have it moved to the party room and use it on the sweet table. Also use functional décor items such as pillows, napkin holders and the like.  These items can add to your overall décor and also have a purpose at your event.
Photo Credit:  Abby Rose
4.  Choose several centerpiece options.
Having different centerpieces creates visual interest and can help cut down on cost. Creating centerpieces that are different heights adds to the overall décor.
Jenna
suggests having some tables with elaborate centerpieces while others have a simpler option. If you are looking to save, don't use flowers on every centerpiece.
5.  Don't spend a lot on kid's table décor.
On average kids sit down to eat for 6 ½ minutes. In that 6 ½ minutes kids are known for destroying or taking apart the table décor.
Jenna
suggests having simple generic décor for these tables that are less customized.  Make sure you have some sort of décor on these tables.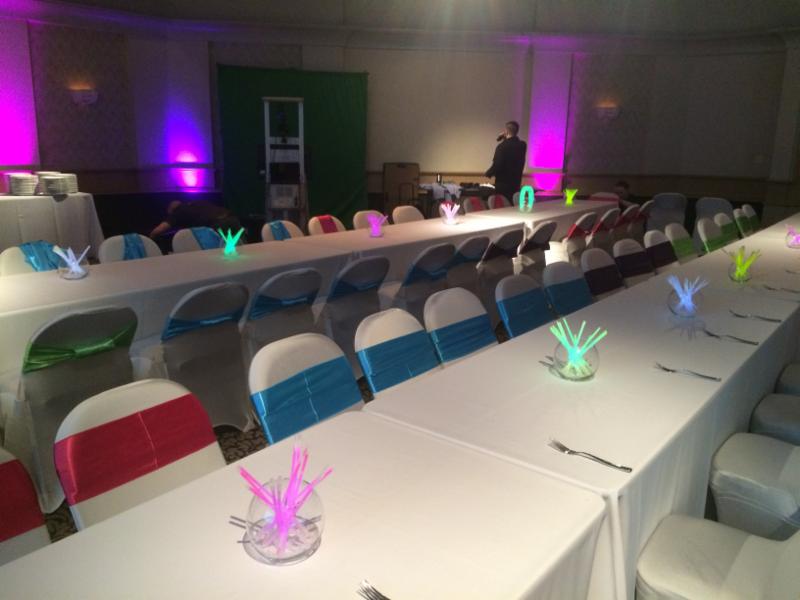 6.  Use candles. Candles are inexpensive and a great way to add to the overall décor. Candles make the room look classier, warmer and add light. Candles come in endless options, and are great paired in groups that are different heights.
 Photo credit:  Abby Rose
Don't forget to take advantage of the summer months to plan your child's Mitzvah. Many kids are away at camp, and since summer is often slower for coveted Mitzvah Vendors, this is one of the best times to meet.